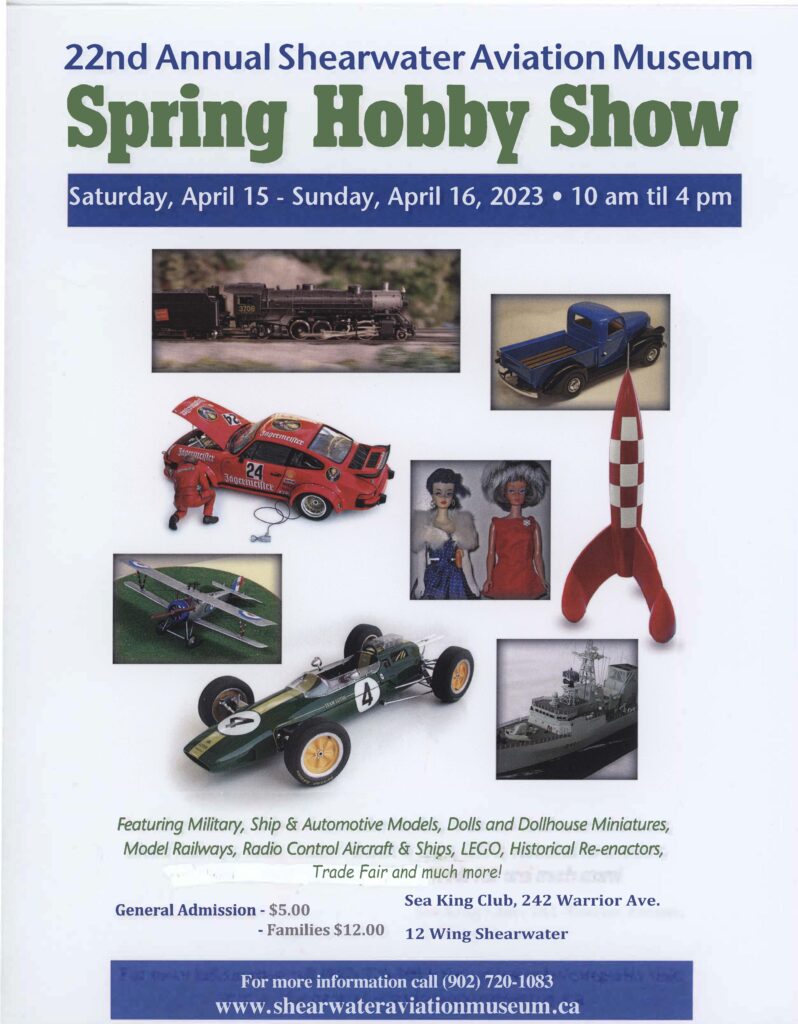 23rd Annual Spring Hobby Show
SAVE THE DATE!
Saturday, April 20th 10 am – 4  pm, 2024 and Sunday, April 21st 10 am – 4 pm, 2024*
*Please note that 2024 Hobby Show Registration will not open until February 2024.
What's it all about?
The show will be a multi-discipline event featuring model Aircraft, Armor, Ship, Figure, Science Fiction, Automotive subjects, and Model Railway layouts; Dolls and Dollhouse Miniatures; Radio Control Ship and Aircraft Models; a Lego display; Historical Gaming; a radio-controlled aircraft, a Trade Fair, and much more. Please note: the show will be at the Sea King Club, 242 Warrior Avenue, Shearwater. Government issued photo ID will be required at the security gate in Shearwater.
All profits from the show will be donated to the Shearwater Aviation Museum.
Where to Find us…
The show will be at the Sea King Club, 242 Warrior Avenue (the first left-hand turn past the Main Gate). The Main Gate is past the Museum on the entrance road (Bonaventure Street) to the Shearwater Airport, directly off Main Road (civic route 322) past the old Imperial Oil Refinery.
Click here for a map.
Participate in the Show!
General Admission: General admission will be $5.00 per person or $12.00 per family of four.
Exhibitors can book free display tables to showcase their hobby, or rent a trade fair tables at a cost of $25.00 each to buy, sell or trade personal items. Please book display and trade fair tables in advance.  To reserve tables contact the Shearwater Aviation Museum at office@shearwateraviationmuseum.ns.ca or (902) 720-1083, or complete a Display/Vendor Registration Form. . Payments for tables can be made via cash, cheque, debit/credit or e-transfer. E-transfer payment address is: 1099-HFXSAMPMTS@CFMWS.COM. Receipts for table rentals are available on request.
Note: Please note that there will not be a model contest this year.
Bring your Families! Tell Your Friends! Hope to see you there!